Occupational Therapy for Hypermobility
Children may have hypermobility that is diagnosed or undiagnosed when they have overly mobile joints. For some children the excessive laxity in joints and soft tissues presents with no problems, however in other cases it may lead to: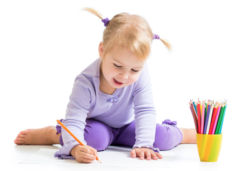 Pain, fatigue, poor legibility and speed with tasks such as handwriting
muscle weakness and poor endurance
generalised fatigue
poor posture and flat feet
loose joints – tight muscles (usually around hips and shoulders)
movement difficulties with gross/ fine motor skills
injury and joint subluxation.
An Occupational Therapist can assess and provide specialised pens/pencil grips, hand/ finger splints, and angled desktops, which minimise pain and fatigue during handwriting tasks. Technology may also be considered. Advice can be provided to improve the quality and performance of fine motor and self care skills. Specific hand and arm exercises may be recommended with the aim of increasing muscle strength and endurance. Assessment for Disability Provisions for the Higher School Certificate and Naplan exams can assist students to minimise the impact of their joint hypermobility on their academic performance.
Who:
Children (infants to 18 years) who will benefit from intervention include those with :
Benign Hypermobility Joint Syndrome (BHJS)
Ehlers Danloss Syndrome
Marfan Syndrome
Down Syndrome
Ataxic Cerebral Palsy
When:
During office hours 8.00am – 6.00pm
Where:
Individual Therapy Rooms and Therapy Gym
Specialist Hypermobility Clinic, Pre-school, School & Home visits will be arranged as required.
Provided by:
One of our experienced Occupational Therapists
Booking method:
Through reception on 02 9519 0966 or through our Contact Us page.
New to Therapies For Kids? Start your journey
Talk to our team now
---
Request a call back
We are here to help